Request for Evidence & Notice of Intent to Deny
Aug. 27, 2021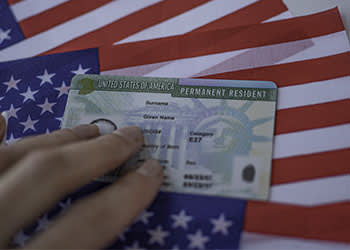 Your U.S. citizen or permanent U.S. resident relative has filed Form I-130 (Petition for Alien Relative) so you can obtain lawful permanent resident (LPR) status. In response, the United States Citizenship and Immigration Services issues a Request for Further Evidence (RFE), or more alarmingly, a Notice of Intent to Deny (NOID).
Does this mean your chances of getting a green card and LPR status are over?
The answer is often "no" — your chances are still good — but you must act quickly and enlist the aid of a knowledgeable and experienced immigration attorney.
If you're in Providence or anywhere in the state of Rhode Island, or nearby in Boston, Massachusetts, contact the Law Office of Layne C. Savage.
Attorney Layne C. Savage is dedicated to helping immigrants and foreign national residents exercise their rights and pursue their dreams. She will work with you to respond swiftly and effectively to either an RFE or a NOID.
Benefit Requests & USCIS Responses
A benefit request for immigration services is not limited to the Form I-130 petition. A request could also be for an employment visa or other authorizations.
Under terms of guidance issued in 2013, USCIS officers were told to issue either an RFE or a NOID if any additional evidence to demonstrate eligibility for the benefit was needed. Unless there was "no possibility" that further evidence would clear the hurdles required, the request was not to be denied.
In 2018, under the Trump administration, this guidance was updated to leave petition responses solely in the hands of the USCIS officer reviewing the benefit request. Officers were no longer required to issue RFEs or NOIDs as a general principle barring "no possibility" of approval. In June of 2021, the Biden administration restored the 2013 guidance.
Differences Between RFEs and NOIDs
A Request for Further Evidence (RFE) generally means that one or a few pieces of required documentation were lacking in the initial petition. This could be a birth certificate, bank statement, or another piece of evidence needed.
A Notice of Intent to Deny (NOID) obviously sounds more ominous, and it generally means you have to make a stronger case for the benefit you're seeking. When you receive a NOID, getting guidance from an immigration attorney is essential. The few paragraphs of "officialese" you receive in your notice may well leave you bewildered — and worried — so seeking immediate legal assistance is paramount.
Whether you receive an RFE or NOID, you have just 30 days to reply, although, through September 30, 2021, USCIS is granting an additional 60 days to respond during the COVID-19 pandemic.
Common Reasons Behind NOIDs
While an RFE will specify which documentation you need to submit, a NOID often means that USCIS has doubts about your qualifications. Usually, NOIDs involve claims of marriage that the agency deems inadequate or suspicious. For instance:
You provided insufficient evidence to prove that you and your spouse have a bona fide relationship

You or your spouse failed to answer basic questions about each other during your interview

You or your spouse contradicted one another during the interview

USCIS discovered social media or public record information casting doubts on your relationship

You or your spouse committed marriage fraud in the past
Burden of Proof & Standard of Proof
USCIS places the burden of proof fully on the benefit requestor. It is not required to provide proof if you're denied your request. The burden of proof will be met, in the words of USCIS, "if the benefit requestor has come forward with the facts and evidence which show that, at a minimum, and without any further inquiry, he or she has proven initial eligibility for the benefit sought."
The standard of proof is different from the burden of proof. Generally, USCIS uses the standard of "preponderance of evidence," which is the standard used in civil court cases (as opposed to criminal cases where the standard is "beyond reasonable doubt"). This means that, if enough evidence is supplied to lead the USCIS officer to believe the claim is "probably true" or "more likely than not" true, then the standard has been met.
It is important to note that the standard rises to "clear and convincing" evidence in certain cases, such as when a beneficiary enters into a marriage while in exclusion, deportation, or removal proceedings.
How to Respond to an RFE or NOID
Time is of the essence. An RFE may require foreign birth certificates or other documents that you cannot easily obtain in 30 days' time. Nonetheless, you should gather what you can and respond.
A NOID can be even more complicated, as you may need to reassess which documents and evidence you need to overcome any doubts USCIS may have. A NOID request should be taken to an experienced immigration attorney.
If after submitting your reply to the RFE or NOID you're denied the benefit you're seeking, you can file an appeal but you must do so within 30 days of the date of your denial. In some cases, it may mean that you have to wait to gather further evidence or to meet certain other requirements, and then re-petition the agency.
Immigration Law Experience You Can Trust
The Law Office of Layne C. Savage has helped countless Rhode Island residents resolve their immigration issues, including responding to RFEs and NOIDs. When you receive one of these letters in response to a petition you filed, don't panic but contact Layne Savage immediately.
The Law Office of Layne C. Savage serves clients throughout Rhode Island from its base in Providence. We also extend our services to those in nearby Boston and surrounding communities.