Naturalization Tips for Immigrants
Aug. 8, 2022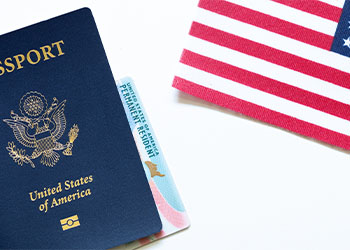 Naturalization is the process through which immigrants become U.S. citizens. However, the criteria to become a U.S. citizen through naturalization are strict. The path to citizenship may seem complicated if you do not understand how the naturalization process works.
If you are pursuing U.S. citizenship through naturalization, it is essential to understand eligibility requirements, how you should prepare for the interview, and what to expect during the process. The immigration attorney at the Law Office of Layne C. Savage assists immigrants with preparing for naturalization.
With an office in Providence, Rhode Island, the Law Office of Layne C. Savage is dedicated to zealously defending the rights of her clients and pursuing their immigration goals throughout the state of Rhode Island as well as Boston, Massachusetts, and surrounding areas.
File As Soon As You Are Eligible
If you want to become a U.S. citizen through naturalization, chances are you have been waiting for this moment for quite a long time. That is because the U.S. Citizenship and Immigration Services has strict eligibility requirements for naturalization:
You must legally reside in the U.S. as a permanent resident for five years;

You must be 18 years of age;

You must demonstrate a good moral character and show proof of no criminal record; and

You should be able to read, speak, and write basic English.
One of the first naturalization tips is to make sure that you understand eligibility requirements and file an application for naturalization as soon as you become eligible.
Be On Time for Meetings
Immigration officers do not look favorably on applicants who are late for meetings and interviews. For this reason, being on time for your scheduled meetings and interviews is crucial. Do your best to arrive 15 to 30 minutes early and dress well to make a good impression. If you are late, you risk getting your application denied.
Bring Required Documents
When preparing for your scheduled appointment with USCIS, you will need to bring all required documents. During the naturalization process, you may need the following:
Form N-400, which is also known as the "Application for Naturalization"

Copies of the front and back of your green card

Two passport-style photos

Travel records

Proof of application fee payment

Proof of no criminal record certified by the court

Proof of fulfilled your financial support obligations

Proof of official name changes (if available)
Every naturalization application is unique, which is why the required documents may vary from one case to another. You must speak with an experienced attorney to find out more about the documents you will need to prepare throughout the naturalization process.
Don't Violate Immigration Visa, Work Permit, or Green Card Laws
When seeking U.S. citizenship through naturalization, it is vital to understand immigration laws and requirements. The consequences of violating immigration laws can be dire and may include deportation, even if you do it unknowingly.
It is vital to understand all applicable laws and requirements related to visas, work permits, green cards, and other aspects of immigration and naturalization. Do not hesitate to get legal guidance from an experienced attorney to ensure that you do not violate any laws.
Prepare for Your Interview
If USCIS schedules an interview, be sure to arrive on time. Bring identification and other required documents. Be prepared to answer a series of questions about your background. An immigration officer may also ask you to clarify some information on your application. You will also be required to complete a civics and English test.
It is vital to prepare for your interview and test well in advance. You might want to seek the assistance of a skilled immigration attorney to assist you with preparing for naturalization and guide you through every step of the way.
Immigration Guidance You Can Trust
The Law Office of Layne C. Savage offers personalized services and guidance you can trust in all immigration matters, including naturalization. The Law Office of Layne C. Savage has an in-depth understanding of immigration law and procedural requirements and can apply her knowledge to your case to help you get your application approved. You can get a free consultation by contacting her office in Providence, Rhode Island.